RDI 07 Dec 2021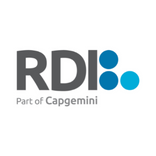 RDI has 20+ years of history working as a strategic partner of a major global QSR (Quick Service Restaurant) retailer.
RDI delivers POS services (point-of-sale) and related software applications that focus on the overall crew and customer experience, resulting in improved operations to the fastest growing food restaurant chain over 120 countries and over 37,500 locations worldwide.

RDI joined Capgemini group in 2017, which has 270,000 collaborators in almost 50 countries.
Our Development Centers are in Sao Paulo (Brazil), Budapest and Debrecen (Hungary).