Digital & Creative Services


The recruitment market has been transformed by social media, smartphones and always-on connectivity, meaning employers need to use a more sophisticated and innovative approach to talent acquisition.
To meet this increasing demand, Hays has developed Digital & Creative Services, a suite of candidate attraction techniques, designed to find you the right candidate and showcase your employer brand.
Whether you are targeting an elusive pool of specialists, or need a high volume of temporary hires, we can build a flexible and responsive campaign that will deliver against even the most demanding of recruitment objectives. All tailored to attract the right level of candidates, for any industry specialism, in any location.

Our Services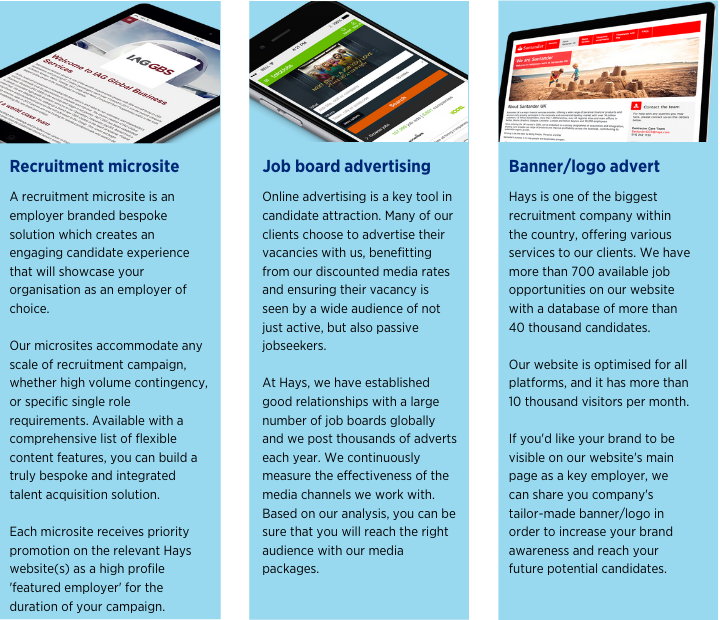 Campaign promotion
Hays website
All active campaigns are branded with your logo within the 'featured employers' section on relevant Hays websites. This prominent position gives our clients access to the jobseeker audience that our sites naturally attract and showcases you as an employer of choice.

Email marketing
Hays has a large candidate database built up over many years. We are able to harness this with our client branded email campaigns and the ability to hone searches based on sector, location, salary expectations and specific skills to name a few.

LinkedIn
Hays has an enhanced relationship with LinkedIn. Hays is the No. 1 most followed staffing and recruiting company and 22nd most followed company globally on the site. We are able to leverage this to appeal to a truly unique audience, with job and content postings promoting client campaigns.

Social
Through our popular social media channels, we're able to share and promote campaigns to a larger audience, attracting passive candidates. Our growing Google+ presence is also useful to improve SEO and ultimately drive more traffic to recruitment sites.

Analytics
All of our traffic drivers are tracked using a bespoke code within our sites. This enables us to monitor how each channel is performing, giving us the ability to offer advice on the successes of a campaign and where it could be improved. With live reporting, we can update at any point during the campaign lifecycle and track applications from job boards.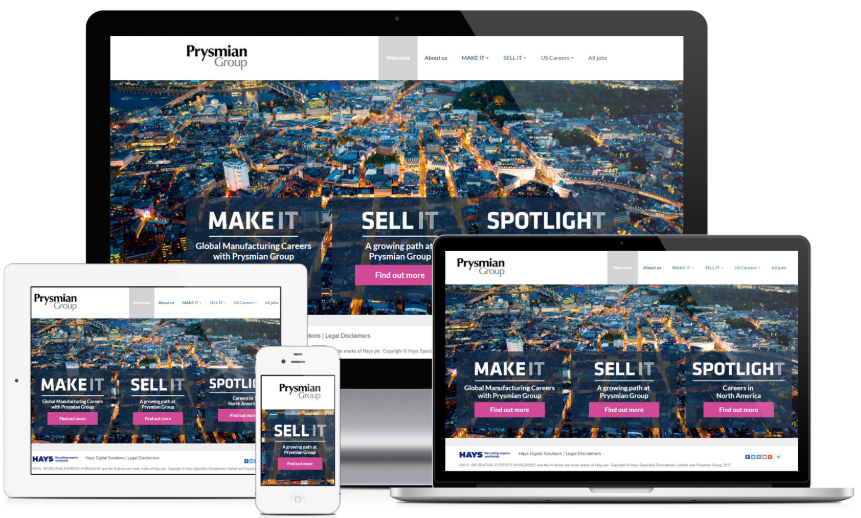 Our Work
We're proud to have developed bespoke recruitment campaigns for some of the world's biggest employers. We've created hundreds of microsites for clients across every Hays specialism - from finance to engineering, from retail to IT, from energy to education. We also produce global campaigns, and cover most of the 33 countries worldwide that Hays operates in.
Some examples of our work:
Are you interested in any of our digital & creative services?
Contact us
Tibor Katona
Commercial Director
M: +36 70 412 2211
E: tkatona@hays.hu